Feed Box
From OBEY wiki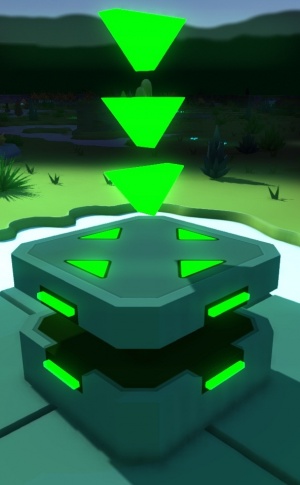 The Feed Box is a preset structure on every map. It is the delivery point for Items that are usable by Robosaru. Any item placed into the Feed Box will be removed from the map. If autopay is greater than 0 and a Bunny places a payable item into the Feed Box, Money will be dropped next to them.
The following items count as payable items:
Uranium
Missile
Fuel
Battery
The 0-4 arrows above a Feed Box indicate the level that Autopay has been set to. Each arrow resembles 25¢.
The Feed Box counts as a solid object and will obstruct movement and weapons fire.
Refunding
If a Collar, Laser Wall, Mine, ! Sign, or Light is dropped into the Feed Box, the player in Robosaru will be refunded their cost. Uranium and Corpses have the same effect, but Uranium is worth 300¢ when dropped into the Feed Box instead of its 100¢ buy price, and corpses that are dropped in will deduct money.
Reloading
If a Missile, Fuel, or Battery is placed into the Feed Box, they will give Robosaru ammunition for the respective weapon. These items are localized to the Robosaru, not the Bunny controlling it, so if another Bunny takes over Robosaru, they will inherit the weapons it has been loaded with.